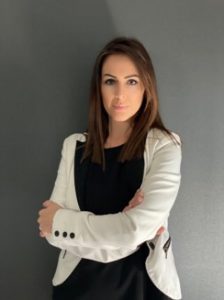 Nicky was born and raised in Johannesburg, South Africa and currently lives in Cyprus. She graduated from the University of Leicester with a Bachelor of Laws (LL.B Hons) and obtained a Master of Laws in European Union Commercial Law (LL.M Hons) from the same university.
She is a licenced insolvency practitioner and an accredited Trust & Estates Practitioner (TEP) from the Society of Trusts and Estate Practitioners (STEP), UK. Nicky is also a certified and licenced  Anti-Money Laundering Compliance Officer by the Cyprus Securities & Exchange Commission. She has recently been appointed to serve as a member of the Companies & Tax Structuring Committee and the  Intellectual Property Committee of the Cyprus Bar Association.
Nicky was elected to serve on the board of Directors of the STEP Cyprus Branch and is responsible for the branch's events, such as a presenter of webinars and training.
Her main areas of expertise and practice include trusts and estates, succession planning, corporate insolvency – liquidations, restructuring, intellectual property law, contractual drafting, general corporate & commercial, compliance, regulatory and privacy law.
She is known for her expert knowledge on trusts and advises on all aspects of trusts, succession planning and inheritance from both a legal and technical point of view. Throughout her career so far, she has advised high net worth individuals and large corporations.
Her strengths lie in the establishment and management of trusts, managing and advising on large and complex corporate transactions, involving a variety of issues such as due diligence, tax, restructuring, IP, regulatory, contractual drafting, general corporate and commercial law, advising on compliance matters, regulatory matters, conducting client risk assessments, drafting AML Manuals for regulated professionals, and providing general legal advice and legal opinions.
Nicky also registers and administers Cyprus corporate entities and accepts fiduciary appointments, such as trusteeships, protectorship and directorships.
Practices
Corporate & Commercial
Intellectual Property
Trust, Succession & Estate Planning
Compliance & Regulatory
M&A
Cross – border transactions and mergers
Sports law
Complex Contracting
​Education
LL.B, University of Leicester, UK (2004)
LL.M, University of Leicester, UK (2007)
Memberships
Cyprus Bar Association (2005)
Nicosia Bar Association (2005)
International Advisory Experts
Society of Trusts & Estates Practitioners (UK)
The Lawyer Network
Professional Qualifications
Licensed Insolvency Practitioner, Cyprus Bar Association (2017)
TEP (trust estate practitioner certified) – STEP full member (2018)
AML Compliance Officer (certified by the Cyprus Securities & Exchange Commission 2020)
Publications
Nicky is the author of various legal articles, legal & tax updates. These can be found in the 'Publications' section in the website.
Interests
Fitness and nutrition (firm believer that a healthy body leads to a healthy mind)
Tennis (ex-Cyprus champ and national tennis team player)
Exploring the world
https://www.linkedin.com/in/nicky-xenofontos-advocate-tep-insolvency-practitioner-55191369/
https://www.linkedin.com/company/30141575/admin/
https://www.xenofontosllc.com/meet-nicky/
https://www.hg.org/lawyer/nicky-xenofontos/176869
https://content.step.org/member-profile/003C000001urv0AIA
https://www.hg.org/lawyer/nicky-xenofontos/176869
https://content.step.org/member-profile/003C000001urv0AIAQ
Privacy Statement
Xenofontos LLC is committed to respecting and protecting your privacy. We comply with the European Data Protection regulation (EU 2016/679) and the local laws applicable to data protection and privacy.
In the terms of our engagement, we tell you in detail how we use and share your personal information and explain your rights regarding how we use your personal information.
Copyright © 2021
 N. Xenofontos LLC.
All rights reserved.